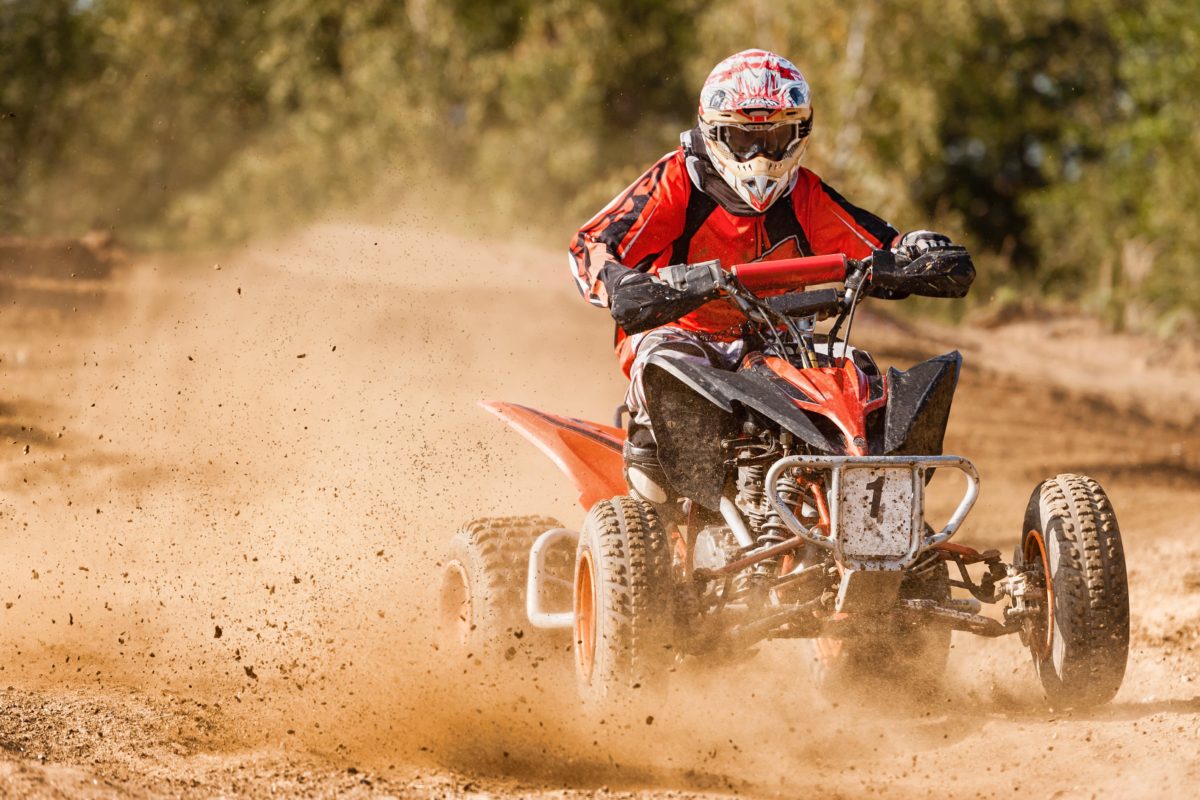 When it comes to using all-terrain vehicles, there are certain things to focus on, and safety is one of the most important. Some inexperienced riders may think that ATVs are inherently safer or easier to operate than cars, but they are not. Though they both have four wheels, ATVs are more dangerous than cars, and should not be operated without the proper safety precautions.
Whether you use an ATV for work or recreational joy riding, it's always important to be safe when operating your vehicle. Insure your vehicle with a customized New Mexico insurance policy, and make sure you're aware of the do's and don't's of ATV riding.
#1: Wear Safety Equipment
Wearing safety gear like goggles, boots, gloves, and of course a helmet while riding a quad is as important as using seat belts in a car. Even if the temperatures are high and you are extremely hot and uncomfortable, It is strongly advised to wear safety equipment on an ATV. It may feel awkward as a beginner but it's worth it for quality protection.
#2: Ride on Permitted Roads and Trails
Riding on a non-permitted road can be hazardous. Riding on the right trail which is permitted by the government of the state is the best decision that you will make for your safety. If you are not riding on a permitted road, then it is possible that another vehicle could hit you when you are enjoying the ride of your ATV. Keep in mind that ATVs are made for off-roading and not for crowded areas.
Choosing the correct path is not difficult in this day and age; a quick internet search will help you select your path. You can find many such trails which are permitted by the government so they are safe to enjoy.  Determine the best trail prior to riding for a better riding experience. You don't want to get lost.
#3: Never Drink and Drive
This phrase applies to all vehicles. It is a universal truth that driving is impaired with any drinking or drugs. Drinking and driving an ATV puts the well-being of you and others in jeopardy. Riding an ATV under the influence of drugs and alcoholic substances is never worth the risks.
#4: Keep it to One Rider at Time
Never ride two-seaters on an ATV compatible only for one. If you want to ride a quad with your friend or relatives then you should buy an ATV which is compatible for two people. If is extremely dangerous to use the vehicle in ways what is is not equipped for.
#5. Watch Out for Young Riders
Speak to a professional about engines and age restrictions. Those too young operating powerful engines may lose the control and balance of the four wheeler easily fly off. Guiding young riders will help prevent unfortunate events as well.  Help inspect the quads of riders under the age of 16 years before taking them out.
#6: Take an ATV Rider Course
To ensure your safety, take some lessons on riding a quad.  Reap the rewards of a course so you can become a professional in this field, find better control and balance on your quads, and prevent injuries. Depending on the course you take, this could also help you to score some discounts on your ATV insurance policy. Which brings us to…
#7: Have ATV Insurance
Comprehensive ATV coverage should be on the top on your list for safety preparation. These are the most important types of coverage to have:
Collision coverage will cover you should you cause an accident or have your vehicle damaged by stationary hazards (such as trees and rocks).
Liability coverage will cover your legal fees (such as payouts or retaining an attorney) if you are sued as a result of your ATV use.
Uninsured/underinsured motorists coverage will cover your repairs, recovery, and lost wages if you are hit by someone with limited or no insurance coverage.
About Daniels Insurance, Inc.
At Daniels Insurance, Inc., we have a unique understanding of the risks that businesses like yours face on a regular basis. With the backing of our comprehensive coverages and our dedication to customer service and quick claims resolution, your business will be fully protected. For more information, contact us today at (855) 565-7616.